Aboriginal queer motherhood
By: Bridget Caldwell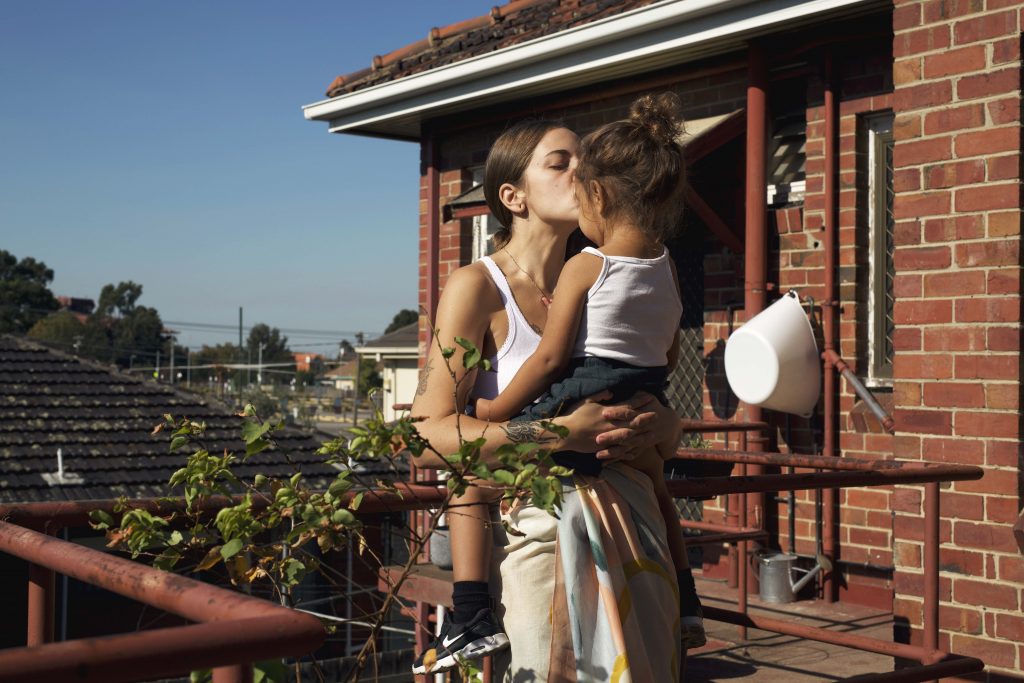 I've always known I wanted to be a mum. The only other parts of myself that I'd ever been so sure about were that I was black and queer.
I became a mother in January 2016 to a healthy, gorgeous daughter. My Napanangka Nangari, a skin name given to her by two of her aunties. Becoming a mother has been nothing like I had imagined yet everything I could ever dream of. My daughter has soft, brown, unruly curls, long wispy eyelashes and bone-thin ankles. Everything about her is black and beautiful.
But becoming a mum means you have to deal with a type of 'maternal ­profiling'. It feels as though accepting this role makes every other part of your identity secondary. No-one talks to you about you anymore, so you question whether or not who you are beyond mother is relevant anymore.
In my case, I felt like I had to redefine what it meant to be me. Was I just a mum now? Or was this simply another layer to my identity? More than that, how does this added layer interact with the other elements of my identity?
I wasn't simply a parent – I was a black parent, and a queer parent.
It all starts with the title you're given for your new job: mother. Alongside father, this is a binary term, with a distinct set of roles and responsibilities that society has demarcated along gender lines. But life and parenting are not binary experiences. So what happens when you unlink those terms from gender?
My partner is queer and non-binary; they are also not the biological parent of my child. But, at three, my daughter has made the decision to call them "Daddy J". Since she has called me "Mum" since birth, we now have to deal with this painful invalidation of our queer relationship as we accept these binary terms for our parenting roles.
At the same time, however, our decision to use these labels means that we can, in fact, interrogate the mother/father dichotomy and redefine what it means to be the parent of a child, just as we have redefined what it means to be a family. We are breaking down Eurocentric ­values and norms imposed on us since colonisation.
Monomaternalism – a term coined by Shelley M Park – refers to families that have only one mother. Park's research focuses on queer par­enting, specifically within queer (lesbian, adoptive, polyamorous) families that break down the barriers of the nuclear family.
The assumption that a child can have only one 'real' mother is truly white to its core. As so many of us blackfellas do, I grew up with many mothers: my aunties, my older sister, my older cousins. The kinship structure of the Aboriginal family is far more comfortable with resisting monomaternalism and the heteronormative nature of the Western nuclear family. My family consists of many kids – my nieces, nephews, younger cou­sins – all of whom share my household as if it were their own.
When speaking about having another baby with my current partner recently, I had a friend tell me that she "would never want to have two baby-daddies". My mum has five kids to three different men; we're all brothers and sisters, and until this comment, I had never really thought much about it.
This non-Aboriginal conception of family – which, frankly, I find boring – resides at the intersection of patriarchy (with its insistence that women bear responsibility for biological and social reproduction), heteronormativity (which asserts that one woman and one man are required in order to raise children successfully), capitalism (in its conception of children as 'private property') and Eurocentrism (in its erasure of polymaternalism in other cultures and historical periods).
We can trace this back to the larger ideological disparity between white and black notions of family. If we look at the most prominent case in Australian history, the Stolen Generations, we see examples ranging from oppressive state control to well-meaning (but misguided) individuals who legitimately thought they were 'helping' Aboriginal children.
The queer family simply resists this idea of 'normal'. To be a queer parent is to challenge the white societal norms that have been colonially imposed – and, now, are profoundly entrenched – in us. But this is not a new concept for those of us who are both queer and black.
By decolonising the gender stereotypes associated with notions like mother, father and family, we can introduce a broader range of relational options. We can begin reinventing the wheel through the way we talk about ourselves. We can decolonise the language we use entirely, whether through using existing terms differently or terms that are completely unrelated to the parenting experience.
It's mostly white people who say "it takes a village" to raise a child; we blackfellas never needed to label this approach to child rearing, or make it a crunchy parenting term. We have always had many people around, as my own upbringing demonstrated. There is a far greater sense of community and security within black spaces – and this is especially true for black families, whether they be blood-related or not.
You inhabit two worlds when raising kids – and, so often, they can get tangled.
I can, and should be, soft and nurturing, but at the same time, I have to be tough enough to foster my babies' independence and strength. How much do I tell them about this shitty world before they have had an opportunity to experience it on their own terms? What if I don't tell them enough – is that doing more harm than good?
Being the mother of a black child means I have to worry about things that white parents don't. I have had to deal with comments like, "She has beautiful light brown skin," and, "What is she mixed with?" How am I supposed to prepare her for this world full of people who will continue to fetishise and feel entitled to comment on her appearance like this?
I am reminded of the comments made to me when I was growing up –"You're too pretty to be Aboriginal," "You must only be half," and so on – and I recall how much these affected my self-esteem and the construction of my identity during those crucial years.
As a parent, your most important job is to nurture your children in a way that allows them to thrive and become truly themselves. I can only give them so much of myself before they make up their own minds.
That, to me, has been the single most challenging part of this whole experience. On one hand, I want to be loving and carefree, but on the other hand, I need to raise my kids with a heavy hand in order to keep them safe. In the context of raising black kids, this means safeguarding them from racism, discrimination and the ways in which living in a country rooted in white supremacy hurts us.
In a time when black kids' lives are valued less than a bicycle – when, in certain states, a black child can, to this day, be adopted to a white family without parental consent, and black people continue to be left behind or forgotten altogether – my life as a black mother is, quite simply, terrifying. It means that I have far more to lose at a far greater rate than most other parents.
Most white parents I know don't have to worry about these things. Their kids are, and will continue to be, safe.
Being a black mother means I always have this pressing need to protect my kids against not only the physical and emotional damage the world may throw at them, but also the psychological damage of having them internalise feelings of guilt about being themselves in all of their black beauty.
My daughter and I recently read a book called I Am Me, which my daughter has now turned into her own made-up song. She sings, "I love my eyes, I love my nose, I love the way my curly hair grows." Through this somewhat small act of self-appreciation, she is already challenging the world by pro­mising that she will love herself.
This makes me think back to my own childhood, reflecting on the ways that my parents were forced to keep me safe. I can remember a time – I was in Grade 4 or 5 – when I was pulled out of class to attend an event for NAIDOC Week, which commemorates the history and culture of Aboriginal and Torres Strait Islander peoples. I remember feeling shame about missing class for these events; I felt singled out.
I went home and cried about it to my mother, but the reassurance she gave me that this 'Othering' in fact made me special and 'different' in the best of ways shaped those situations for me. It was moments such as this that allowed me to find the pride that I now have in being a black woman.
The way I parent has been inherited from the way I was parented as a child. Much like how my mother, aunties, sister and nanna raised me, I am finding ways to reassure my daughter that she comes from a long lineage of matriarchal strength.
Lately, I've been thinking a lot about the way I parent. At the time of writing, I have just experienced a miscarriage, and the heavy weight of responsibility feels more crushing than ever. There is a sense that I have failed to bring another black baby into the world.
But, more than that, I've been thinking about how my next baby will have one black parent and one white parent. My children will have noticeably different skin tones, but they will be no more or less black than each other. They will have their own identities. How much of that can I control? Would I really want to?
Parenting queerly is a deliberate choice to raise children as free as possible from the limitations that labels, stereotypes and gendered norms place on marginalised people. This is not just about me being a mother who identifies as queer; this is about freeing children from the burdens of a world they had no part in creating.
In the process, I am working to eradicate the thinking that tries to target, isolate and oppress the least influential among us – even if just through little acts of domestic resistance. Our home lives, after all, are microcosms for society.
In my queer household, I create possibilities for challenging entrenched gender and relationship dynamics. My daughter asks a lot of questions about clothing, for example – "Mummy, are you wearing a dress today?" "Will Daddy J wear a dress today?" – and we remind her that clothing isn't related to gender in any way.
When we read books that use binary pronouns, she also often asks how we know these people are male or female. We tell her they are "simply people" instead.
Over dinner one night, my daughter called my partner "he". After gently correcting her by explaining that we only use that pronoun when referring to someone male, she responded, "Oh okay, yes, because J is just a person."
These small comments prove that we can help our kids understand, even at a young age, that we are all fluid, on gender terms, in some way. At the very least, I am showing her that she is free to express her identity in whatever way she wishes.
I am also fostering this environment of acceptance so that one day we won't be considered a 'queer black family', but just a family. I am re-­creating the 'normal' that I had when I was growing up, before I was exposed to more '­traditional' societal values and norms.
At heart, parenting queerly is about passionately and unrelentingly introducing children to queer ways of life, to the beauty and fun of gender exploration, and to the diverse possibilities of romantic and sexual partnership.
Parenting isn't easy. Parent­ing a black child isn't easy. Parenting with the added bonus of queerness is not always easy, either. There are lots of difficult conversations and lots of questions, some of which I may not be able to answer.
Being a mother in a capitalist society rooted in white supremacy, misogyny and homophobic attitudes definitely means I am required to make some highly political decisions every day. It means that I have to always be on my guard and armed with a response. I must actively place queerness in my child's path because racism, hetero­normativity and the notion of binary gender structure so many aspects of children's lives – their toys, their books, their peers.
These parenting choices are not only political acts; they are means for survival. Giving birth to black babies is, in itself, an act of resistance, proof that we are still here. Through my approach to parenting, I have to set an example for ways that adults who care for children can effect social change.
My queerness, my blackness and my relationships are all things that have defined me and will help shape my kids. As a queer person, I will continue to be shamed and stigmatised for refusing to adhere to the sexual and familial norms of straight culture. As a queer black woman, I have a responsibility to ­decolonise my parenting so that my kids grow up to follow suit.
So if my kids end up being anything like their parents, then really we haven't done such a bad job after all.
Bridget Caldwell is a Jingili ­Mudburra writer and editor based in Naarm/­Birraranga. She works as a co-editor for literary journal The Lifted Brow and was most recently managing editor for Blak Brow.
This article originally appeared in Archer Magazine #12, the PLAY issue. SUBSCRIBE TO ARCHER MAGAZINE
<! -- WIDGET HERE FOR BUY ARCHER -->