Life under shadow: Exploring bisexuality as an Arab-Australian
By: Omar Sakr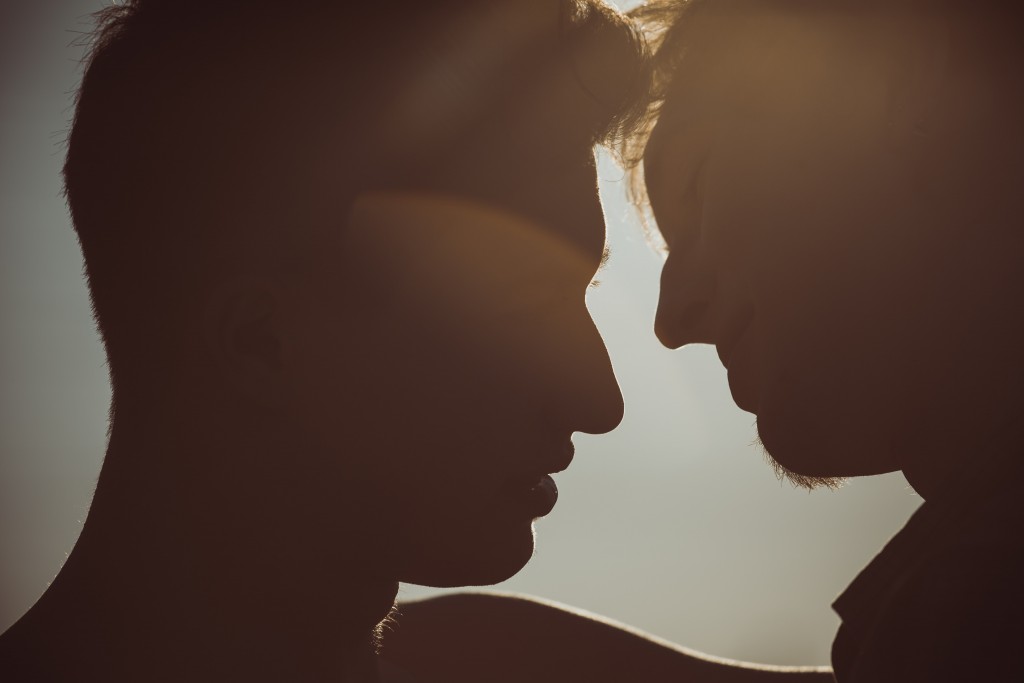 Bodies are like houses. Some are big and wide, some small and cosy, some old and broken. Like houses, bodies come in all shapes and colours, and we're all conditioned to be judgmental about them: where we live, where we've come from, and the associated privilege of a postcode. More than that, our bodies, our homes, are the places where we should feel most comfortable, most safe. Behind different doors live our emotional realities, our loves and hates, our memories and dreams.
If you wander through your own interior household, you'll find doors marked with headings, such as 'childhood', or 'trauma, be careful'. It's the door marked 'sexual identity' that I want to enter now.
I came into my sexual identity later than most – reluctantly, it seemed. I was a sheltered kid, and I lingered in the shadows of my older brother and cousins as we grew up roaming the streets of Western Sydney.
I had to be led into the sexual world of adolescence, where many boys tell stories of discovering it on their own. I had two awakenings, from the first realisation that desire lived in my body, right through to learning that I was attracted to men and women. Both times, I was handed the keys by someone else.
In primary school, my precocious friend, C, asked, "Have you started wanking yet?"
"Of course," I scoffed. He saw through my lie immediately.
"What is it then?" he said, laughing at my blank look. "You should ask your older brother."
So I did, and asking the question opened a doorway to temporary bliss. Thereafter, my brother and cousins accepted me into group jerk-off sessions with their friends. This was the early '90s, pre-internet porn. It was hard for anyone to get their hands on a scrap of shitty magazine and when they did, we would gather in a tribal circle to peer at the crumpled paper, the bared breast.
One afternoon, when we had the house to ourselves, one of my cousin's mates brought over a porno – an actual VHS. We were beyond excited.
He put it in, and grainy footage began to play. A young Asian woman clambered into bed with a much older, fatter white man, and proceeded to take a winding shit on his chest. It wasn't what any of us were expecting, and Andy, who brought the video, copped plenty for it.
We skipped the scene and stopped at some actual fucking, and, in seconds, dicks were out. Andy went into the hallway – "Don't look at me, you fags!" – and another friend went into the kitchen, both retaining views of the TV, and proceeded to jerk off. I could never quite bring myself to join in, and instead focused on committing the adult scenes to memory.
At this stage, my bisexuality was still nascent, so I had no quibbles with any of it, aside from the passing thought that I was focusing too much on the probing cocks in porn. But how could I avoid it? That's what the camera focused on, more often than not. I tried not to think about it too much – every bit of naked flesh was exciting, after all.
During high school, I was led into the next stage of my sexuality. The cries of "fag" and "you're so gay", were increasing tenfold, not just from my brother and cousins, but classmates and other people. As far as I was concerned, the only difference in my behaviour was that I'd become less sporty and more geeky, finishing one book and moving onto another. One afternoon, I was sitting in the living room with my cousins, brother and two aunties.
One, my mother's sister, raised me from birth. The other, my mother's sister-in-law was younger, hipper and university-educated.
The TV blared, and my aunties had their own sing-song conversation in Arabic in the background, a tongue I only knew fragments of, and so was used to tuning out.
My cousin, J, sitting opposite, suddenly said to me, "You know you're going to hell, right?"
I rolled my eyes. "No, I'm not."
"Yeah ya are. All gay people go to hell."
"What? No, they don't." This was new territory.
He laughed. "So you admit to being gay?"
"No, idiot. But they don't go to hell for no reason. That's Christianity, not us."
Islam had always been posited to me as the tolerant alternative, in which judgment was God's domain alone, and not for any person to deliver upon another. I had just assumed it was true for all things.
The Arabic in the background stopped, and my aunties turned their attention to us. The younger one spoke first.
"He's right, it's haram."
"But why? How can two people loving each other be wrong?"
"It's just unnatural."
Everyone chorused their approval of this notion, and I sank back into the couch, baffled. Even as a 12-year-old, that didn't seem right to me.
With family, friends, and classmates all throwing the word at me, it was inevitable that I would seek out this forbidden thing, this kind of love so often ascribed to my body. So, one day in a public library (we couldn't afford a computer at home, being very much among the working poor), I dove in.
I couldn't use sites with actual images, but erotic stories were easy to access, with the added bonus of making it look like I was studying. After the usual straight entries, I let the mouse hover over the 'orientation' menu, my heart pounding. One click later, I was in the gay section, reading a terribly written story about two guys fucking, touching, loving. My erection throbbed.
I was about 13 at this point, and this moment marked the beginning of a loneliness that has stretched to this day. I already knew how my family felt about the subject, so even as I recognised the thrill thrumming through my body at the thought of two boys sucking each other off, I felt sadness as well, and a blossoming dread.
From that day, I could never fully participate in family events. I had splintered off into a watchful observer, to ensure that I never slipped up, never let them know how close they were to truth with their spurious accusations.
Around this time, an inner clock began to tick on all the relationships I had with my kin. Although it's stopped ticking for some, for others it continues: an endless rhythmic reminder that I am only delaying the inevitable.
As I got older and began to explore my fantasies, I became increasingly aware of my bisexuality. At first, there was the constant agonising, the bombardment society throws at you through popular culture. "It's just a phase", they tell you, or "bi now, gay later".
This myth that bisexuality isn't real, that it's a stepping stone for people who can't accept their homosexuality, is both prevalent and dangerous. Was I lying to myself? Every bisexual person has to fight this battle within and without; externally, sometimes, for the duration of our lives.
I still had very typical straight desires: I wanted a girlfriend, to get married and to have kids someday; and men did not feature in these fantasies. I wonder if it's because my youthful terror of being 'found out' welded that door shut.
My formative years were spent thinking of, dreaming about, and crushing on girls. Play-acting weddings with local girls, rings of sticky tape on our fingers. Feeling my heart do cartwheels of joy when my neighbour M came out to rollerblade with me (it was a thing in the '90s, I promise). Acceptable desires, tomfoolery and fantasies cleared space for a love of women to grow.
I had none of that with boys. By the time I became aware that what I felt for them could be more than friendship, fear had already placed limits around what that could mean.
To say I felt claustrophobic growing up is like saying the universe is big: it's an understatement. Attending an all-boys school while growing up in an Arab Muslim household, I didn't dare dream of men. For years, I slept in the same room as my brother, and I often went to bed terrified that I might mumble something in my sleep.
This is why I've never had a romantic investment in male-male relationships, and why I've only ever thought of men as meat. I expect it was a way of normalising my desire in such a restrictive environment, a means of telling myself, sure, I may be bisexual, but it's not like I'd ever love a man. I'll just fuck them and be done with it.
I let myself think of them as occasional eye-candy, to fulfil a taboo thrill. Knowing it was forbidden made it more exciting – it fit perfectly into my rebellious teenage mindset as I got older. Yeah, I was basically the Catholic schoolgirl cliché in brown skin.
Growing up, I never had gay or bi role models to look up to. I didn't get to see mature bisexual relationships on television or in films or books, and I didn't get to ask my older brother or cousins for advice. I certainly never got the chance to go out with any boys, or even broach the subject with them. Or else, maybe the chances were there and I was too terrified to notice them.
My experience has, by necessity, been limited. Unlike most young Arab men, I moved out as soon as I could, rather than hanging around until I was safely married, as is the norm. If I ever wanted to breathe easily, it had to be done.
Even though I've lived independently of my family for several years, I still haven't acted on my desire for men beyond scattered casual hook-ups. Each time, the reality of the experience has failed to live up to the sheen of my imaginings. From the very first instance of meeting a stranger, getting picked up and taken somewhere to fuck in the back of his car, some part of me has been repulsed. It has felt like nothing more than a deed, or a job, like taking the bin out.
Coming face-to-face with people who have the same mentality I once did – that men are just meat, so let's fuck and be done with it – shook something loose in me. In conversation over apps or Craigslist, there's a high chance of seeing a stranger's dick before a 'hello'. The absence of intimacy from the set-up is startling, and I've grown less comfortable with it as time goes on.
Each experience has left me cold, and the periods between each one are growing longer and longer. I find myself stuck in a rut, not knowing how to establish a normal connection with another guy, and always leaping straight to a meaningless release.
Unsatisfied, I retreat, before eventually turning back to the apps, just to remind myself that this is a part of who I am, to ensure I don't return to the comfortable fantasy of forgetting.
A friend of mine recently told me of a dream she'd had about me, and in so doing, opened a door I've kept closed for too long. In her dream I had married a lovely fellow with a nice smile, and I'd had a book published. "Your husband was from someplace beautiful and rainy," she wrote. "No more awful Australian heat, just greenery and old libraries and museums."
That message was months ago, and I'm still dizzied by it now. I'd been living independently as a bisexual man for years, and yet not once ever imagined my eventual partner would be a man. I found myself grinning.
Omar Sakr is an Arab Australian poet and non-fiction writer. His latest work can be found in Junkee, The Guardian, The Saturday Paper, Meanjin and Kill Your Darlings, among several others. He's been shortlisted for the Judith Wright Poetry Prize, the Story Wine Prize and the ACU Poetry Prize.
This article originally appeared in Archer Magazine #5.
<! -- WIDGET HERE FOR BUY ARCHER -->