Sex worker activism: the scarlet umbrella
By: Dan Bledwich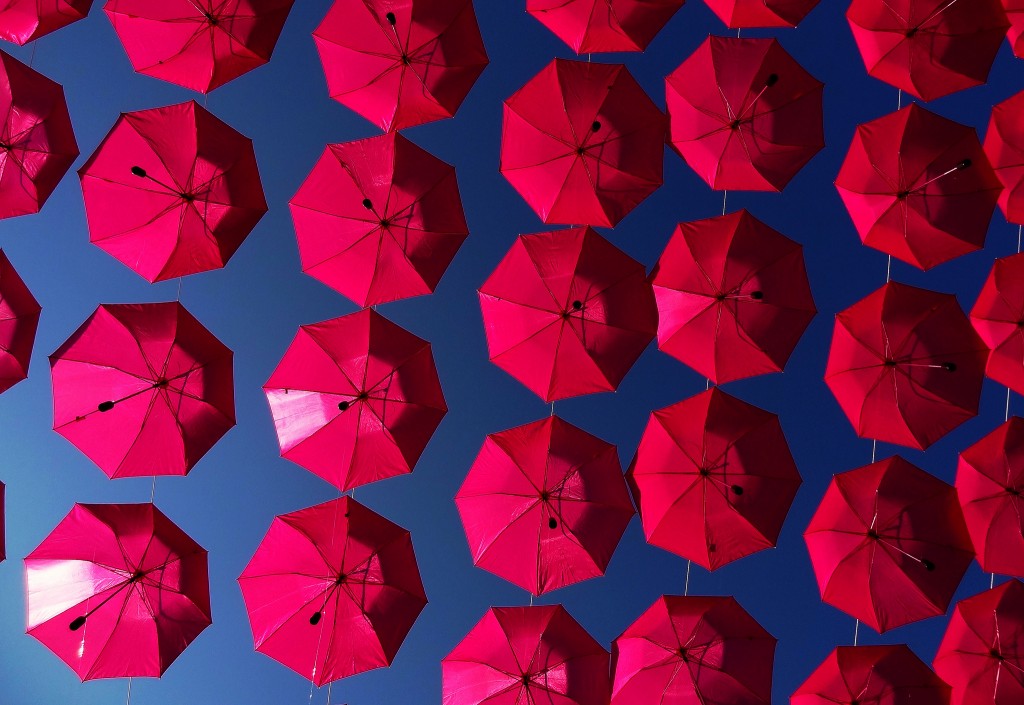 "Have you got your umbrella?"
The sun is blazing, but I know exactly what I'm being asked. "Yep," I say, tapping my DECRIMINALISE SEX WORK bag.
Arriving at the rally, we join our friends and pop open our red umbrellas: the international symbol of the sex worker rights movement. On any continent, in any country, if you ask a sex worker activist the symbol of their movement, they'll say the red umbrella (or tell you wryly that it's the condom).
This image is in stark contrast to the sex workers that appear in the media: a woman on the street leaning in a car window; a silhouette in the doorway of a brothel.
So why the red umbrella? It's visible. It's good for all kinds of weather (besides wind), and it hides in plain sight. Plus, it brings us together when we gather in public. We become a movement.
The red umbrella came to prominence in 2001 in Venice, Italy. Slovenian artist Tadej Pogacar collaborated with sex workers to create an installation highlighting the injustices they faced. Following this, sex workers carrying red umbrellas marched the streets during the 49th Venice Biennale of Art in public protest.
In 2005, the International Committee on the Rights of Sex Workers in Europe adopted the red umbrella as their emblem. Other groups and organisations then followed.
Scarlet Alliance, the Australian Sex Workers Association, was formed in 1989 and remains Australia's peak body representing sex workers. The group is comprised solely of sex workers, and strives "to achieve equality, social, legal, political, cultural and economic justice for past and present workers in the sex industry."
I've been a member of Scarlet Alliance for about eight years. Soon after becoming a sex worker, I moved to Sydney and landed an administration job at Scarlet.
During my induction, my co-worker squealed in excitement, "I got a new tattoo yesterday!"
"Show me," I said, ever the body modification enthusiast.
She hiked up her 1950s summer dress to reveal a flaming heart wreathed in thorns over her pubic mound, and a heavily pierced vulva. She wasn't wearing any underwear.
"That is beautiful," I glowed, because it was, and because her blasé reveal indicated I was going to fit in. People were open, and my experiences as a sex worker were valued. I'd finally found somewhere to hang my hat and don my politics.
I eventually joined Scarlet's executive body, which governs the organisation's decision-making process. The first time I dialled in to our teleconference and heard everyone say hello from various locations in Australia, I was in awe.
Soon I was writing submissions to government, bending the ears of politicians, preparing for the annual general meeting, and falling into my bed at days end utterly exhausted. I was learning to critically engage with all kinds of people, navigating the intersections of class, size, gender, sexuality, ethnicity, and disability with sex work, and challenging privilege.
I listened to discussions of street-based sex work that blew my mind. I wasn't aware of the public shaming and stigma that existed around this facet of our industry. Scarlet advocates on behalf of these workers at the coal face of the sex industry, who are persecuted most, and subsequently fight the hardest for rights. A realisation slid comfortably into place: that it is our collective duty as a community to defend the rights of all sex workers; nobody can be left behind.
I've also learned that the time we spend with clients is as valuable as our advocacy. Sex work is still work, and our individual pursuits can only add to our activism. We aren't two dimensional, and by telling the complex narratives of our lives to outsiders, we prevent our stories being rewritten or distorted.
Between activism and sex work, there is play. When we get together, whether in an activist capacity or not, this is our time to unwind, debrief, and celebrate each other. Whether we're getting drunk and playing Singstar, celebrating the Whore of the Year Awards, cramming into a tattoo parlour, dancing like mad, sharing beers and joints, doing handstands in the pool or getting frisky in the spa – all of this interaction is integral to the sex worker community.
Male sex workers in Australia are some way behind women in terms of lobbying for rights. In sex work, it is women that guide our movement, and their knowledge and skill often inform and inspire my own practices.
I'm continually enchanted with other sex workers' techniques – I share the voyeurism that many outsiders feel for our industry. When we fuck clients, our individual techniques distinguish us from others and contribute to our career success. Using our skills to pleasure clients while we perform sexual health checks, ensure the condom is on and bring the client quickly to orgasm is incredibly savvy, whichever way you look at it. (And no, I'm not going to give away trade secrets – you'll just have to come up and see me sometime.)
Sex workers refer to our services using an array of language – some of it slang, some of it code to circumvent the criminalisation of our industry. I love this language. New-comers soon discover services codified to signal what is included or excluded, and what costs extra: from droll acronyms such as GFE (Girlfriend Experience) to more creative terms like French, Spanish, and CBT (I'll let you Google these). I'm not sure Spaniards invented Spanish, or even show a preference for it, but these references are used for play, and they're a testament to the often light-hearted nature of our work.
For me, one thing will always remain true: sex-worker activism is the best thing about our work. It's the joy of being around other sex workers who get it. It's being part of a truly radical community that creates change, because we're sick of the stigma and because our political beliefs demand action. Yes, our activism is empowering, but what's more important is the work we're doing; the change we're enacting.
I love the moments when we have a win. Seeing the outcome of Bedford vs Canada, in which three sex workers incited the Supreme Court to strike down all of Canada's anti-sex work regulations, brought tears to my eyes and a triumphant cry to my throat. Bedford may not have been my win, and its results are complicated, but at its essence, three sex workers proved to an entire country that it's unconstitutional to endanger the personal safety of sex workers. BOOM. (There are those tears again.)
Activism is the fount from which sex-worker rights spring, and the means through which we aim for equality. My hope is that when equality comes, it will be true and it will be lasting, and the most disadvantaged of us will not be left behind.
Dan Bledwich is a 29-year-old sex worker and writer based in Melbourne. Dan divides his time between writing his memoir, poetry, punk, and being an agitator for social change. Follow him on Twitter at @singult
This article was first published in Archer Magazine #3.
Subscribe to Archer here.
<! -- WIDGET HERE FOR BUY ARCHER -->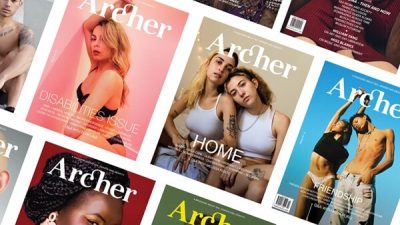 HELP KEEP ARCHER MAGAZINE AFLOAT!